Just Released: Brand New Researched Formula

Also, save 25% Storewide on any products with this coupon code: NY25
Today, JayLab Pro is recruiting participants to take part in our very first launch of our newest weight loss breakthrough, LeptiSense.
We specifically created this product for those men and women who have struggled with weight loss their entire adult lives. We know (and more importantly) understand that as you get older, your body starts to resist your efforts to make healthy changes for weight loss. In fact, studies have shown that your metabolism starts to slow as each year breezes on by. Based on the research, if you're over 30 (or even as old as 60) any weight loss will be a constant struggle, it won't be easy—it just not going to happen!
But besides the natural course of aging, research has also shown two other important factors that could be preventing you from losing weight. Those are: High cortisol and Leptin levels. Unfortunately, the higher body fat levels you have, the more Leptin you're producing. Normally that would be a good thing…
Except in this case it's not. The reason why your Leptin levels are so high is because you're RESISTANT.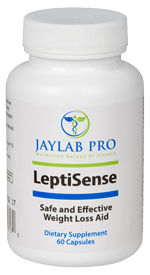 LeptiSense is the combination of two powerful nutrients that have been clinically proven to help you lose weight…boost mental health…lower stress and inflammation…and bring down both Leptin and Cortisol to more manageable and healthy levels.
This results in more successful weight loss—and weight management. Plus, unlike other supplements that contain stimulants, LeptiSense is stimulant-free, which speeds up your metabolism without leaving you feeling jittery or up for all hours of the night.
But we didn't stop there when thinking about your entire health…
LeptiSense is a vegan supplement, making it perfect for vegans and non-vegans alike. We understand that vegans may have a harder time finding supplements made from non-vegan ingredients. We didn't want that to stop you from trying LeptiSense, so we developed this product with EVERYONE in mind.
Over the last 12 months, I have worked with people struggling to lose weight—even with the right diet and exercise program. No matter what they did, they were unable to lose weight—or keep it off. And this is where the idea for LeptiSense came to fruition.
Today you can save not only 25% off our brand new researched back non-stimulant based formula, but we are starting 2018 off with a bang and putting the ENTRE store on sale at 25% off. Stock up on your LeptiSense and all your favorite products RIGHT AWAY!!
Use This Coupon Code When You Checkout: NY25